Yesterday was a big day for
Headcase Games!
Our app
180
was featured as Amazon's Android App of the Day! We reduced the price to free for 24 hours and got a LOT of downloads! And the reviews are glowing! (
LINK
)
Meanwhile our iPhone version App is being featured by the kind folks over at
Free App Magic
, so we will leave that free until the end of the day on Tuesday, July 12. Grab it now on iTunes! (
LINK
)

Marked down from USD $1.99 for one (more) day only -
Support us and spread the word on Twitter, Facebook, and in the forums!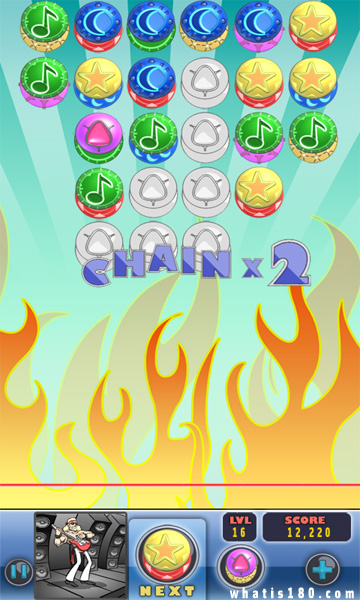 Want a free copy of
180
for Android?
Here's
a link to the ad-supported version on the Android Market, play it for 10 hours and the ads will disappear - forever!
Hyper-Gameplay awaits you!
What's next on the mobile front from Headcase Games? In development for later in 2011 you can look forward to
retro-arcade fun with
Hop Cop
, frantic puzzle-action in
Trapdoor
, and oldschool side-scrolling blasting mayhem in
GunHead
- details coming soon!
About

180:
20,000 downloads on Android! 140,000 on iTunes!
180
is an insane flipping match-3 drop action puzzle game the likes of which you've never seen before. Launch coins into three-in-a-rows to clear the vertically-descending board. Play alternate colors by flipping coins 180 degrees at any time. Create incredible combos and be rewarded with HUGE scores - just don't let the coins touch the red line at the bottom, or it's game over!
About Headcase Games:
Headcase Games is an independent developer whose members' previous credits include creative development on console/PC titles
Tony Hawk's Pro Skater series, Neverwinter Nights 2, Alpha Protocol, Heroes of Might & Magic IV, Guitar Hero, Knights of the Old Republic II,
and several others.
Contact:
www.headcaseGames.com
info@headcaseGames.com
PR Kit available at
bit.ly/180a_PR